Fill in the Life Education survey to win
Enter Harold's Family Comp for your chance to win and help us improve our program!
Last year more than 13,000 Queenslanders provided their feedback through our survey to ensure we continue to make the program enjoyable and effective.
By completing this survey you will also receive access to health education tips, tricks and resources to continue embedding those healthy habits at home.
At the end of each term as part of Harold's Family Comp, one lucky entrant will win one of:
$1,000 Rebel Sports gift voucher OR $1,000 JB Hi-Fi gift voucher
That's a total of four prizes available throughout 2021 – worth a total of $4,000!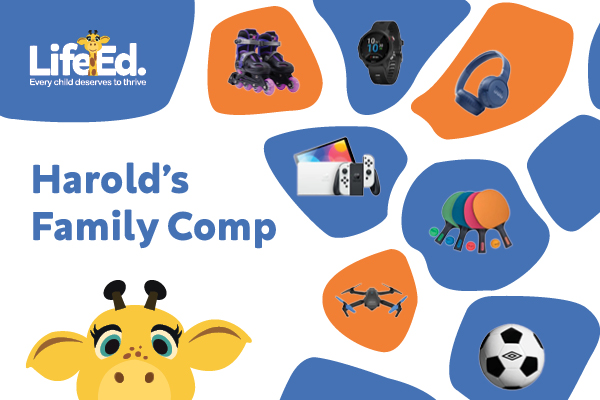 How do I enter?
Complete a quick survey that will take no more than five minutes, telling us about your child's experience with Life Education.
The winner for Term 1 of 2022 will be drawn on XX April 2022.
For full terms and conditions, visit this webpage.
Please note by completing this form your survey data will be collected and any submitted items may be shared by Life Ed Qld for promotional purposes across website, social media etc. Please refer to our Privacy Policy here.