Life Ed Queensland's award-winning Healthy Eats program has flourished in schools across the state, changing young mindsets and entire school food environments. 
With one in four Queensland children between 2 and 17 living with obesity or overweight, the groundbreaking program works with individual schools across the year to boost vegetable and fruit consumption in young people and promote healthier choices in the wider school community.  
In 2023, Healthy Eats reached 612 Queensland school children through the Healthy Eats classroom nutrition session and more than 7000 students through whole-school initiatives. 
Supported by our Healthy Eats community development officers, schools are resourced and empowered to implement program initiatives which have ongoing impact:  
in-classroom nutrition education sessions

 

thriving

fruit and vegetable gardens, 

 

tuckshop menu reviews to align with Smart Choices and healthy food and drink policies

healthy brain breaks 

 

and student leadership activities to encourage healthy food choices among peers 

 
Three new schools achieved Healthy Eats accreditation in the past year – St. Benedict's Catholic School and Port Douglas State School in North Queensland, and Loganholme State School in South East Queensland – taking to ten, the number of schools who are Healthy Eats accredited, after successfully ticking off 10 program milestones.
School and community engagement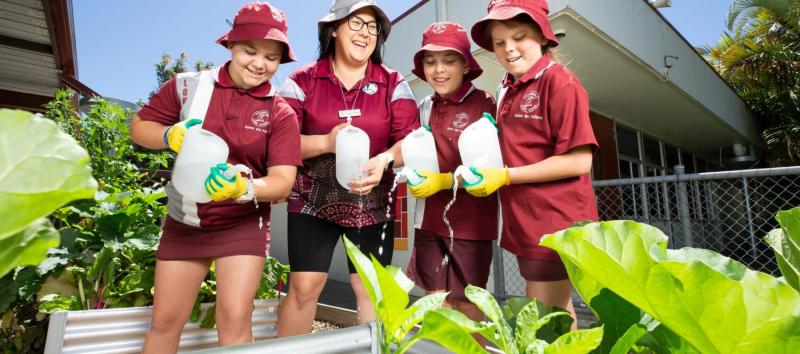 Community development officers Megan and Jaclyn were kept busy delivering classroom nutrition sessions in Healthy Eats schools in North Queensland and in the state's southeast. 
A program focal point, the interactive nutrition module gives students the chance to learn about the human body, the overall health benefits of good nutrition and how food can impact growth, mood and energy levels. Students also learn how to read the nutrition labels on their favourite foods and investigate what might influence their food choices. The session ends with a hands-on activity where children create their own delicious, healthy snack. 
Taking Healthy Eats to Townsville was a highlight for educator Megan, who visited Garbutt State School, Townsville West, Aitkenvale, Vincent State School and Currajong State School. These visits were funded by Townsville Communities for Children, the Australian Government and facilitated by The Smith Family Townsville.  
Megan helped run a breakfast club at Aitkenvale State School during her visit in March, supporting teachers and other volunteers to provide students with a healthy start to their day.  
"It was great to get back out to Townsville for the classroom sessions. It's always exciting to see all the smiling faces ready to learn about healthy eating," Megan said.  
In South East Queensland, nutritionist and community development officer Jaclyn led professional development for teachers, parent workshops presenting savvy lunchbox ideas, joined passport challenge school picnics and established Healthy Eats activity stations during Under Eights Week at both Loganholme and Woogaroo Creek State Schools. The activities support the program's whole-school philosophy which reinforces good nutrition across the school community, a model that is pivotal to the success of Healthy Eats.