About one thousand primary school children across the Wide Bay district connected with key messages about health, wellbeing and drug education in term three thanks to a generous donation from the Gin Gin Community Bank branch of Bendigo Bank.  
The community bank has supported the Life Education program in the region for the past six years. The latest $6,000 grant enabled children from 12 schools to attend the Life Education mobile learning centre during term three at no charge.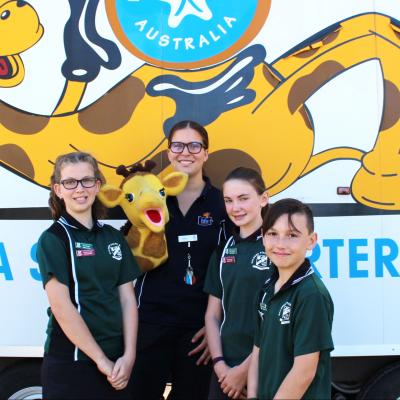 Bank spokesperson Susan Bengston said the community enterprise had invested $1.5 million into various projects in the district since its establishment 12 years ago, and Life Education's popular program was a key beneficiary.  
"We see Life Education Queensland as delivering an education program that is crucial to children's long-term health and wellbeing," Ms Bengston said. 
"Some students in the region are experiencing lower socio-economic circumstances, and in the past, some were missing out on the program because their parents could not afford it.  
"We didn't want any child to miss out on the important values and health and safety messages delivered by Life Education and this funding means there is no cost to parents at all." 
Principals welcome the Life Ed learning 
Childers State School was one of the Wide Bay schools to welcome the Life Ed mobile classroom this term. Principal Robyn Philpott said students had enjoyed learning sessions about healthy choices, cybersafety and the harms of drugs, alcohol and cigarettes.  
"The Life Education program covers topics and issues that children are encountering in their lives and provides them with age-appropriate strategies to deal with issues they face," Mrs Philpott said. 
Funding helps extend reach 
Life Education CEO Michael Fawsitt said the ongoing support of the Gin Gin Community Bank was invaluable.  
"As the largest non-government provider of health and drug education to children and young people in Queensland, we believe every child deserves to be able to access our program" Mr Fawsitt said. 
"This funding from the Gin Gin community bank is vital because these communities really do need access to our services. 
"Particularly in regions where health indicators are sometimes worse than they are in metro areas, it's really important that we get our program embedded in schools where we can help teachers give children the knowledge and skills to live a safe and healthy life. 
The schools that benefited from the Life Education program this term thanks to the Gin Gin Community Bank grant are:  
Gin Gin State School; Wallaville State School; Booyal Central State School; Maroondan State School; McIlwraith State School; Bullyard State School; Mount Perry State School; Biggenden State School; Coalstoun Lakes State School; Childers State School; Cordalba State School and St Joseph's Catholic Primary School – Childers.